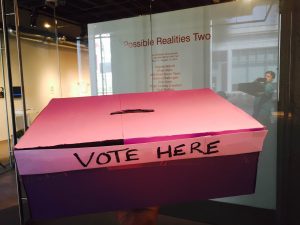 The voting is finished! Visitors selected Paul Deery's Water Way as the next artwork on the Karl Stirner Arts Trail.
The artist describes Water Way as a natural stone-lined channel cut into the landscape. As pedestrians walk through they will experience movement similar to the flow of water if it moved through the piece.
July 11–August 15, 2015.
Possible Realities Two presents proposals for Easton's Karl Stirner Arts Trail by over twenty-five local and regional artists.
The exhibition also will honor one proposal with a $4000.00 stipend to realize their work on the trail. A ballot vote by gallery visitors will determine the chosen work.
Participating artists include:
Virginia Abbott, Khalil Allaik, ASB Shell Shock Team, Brandon Ballengée, Rich Cook, Thom Cooney Crawford, Vicki DaSilva, Paul Deery, James Harmon, Winifred Helton Harmon, Doug Ihlenfeld, Ken Jones Jr., K.O. Kleppert, Tom McGlynn, Martha Posner, Ben Pranger, Patrick Schmidt, Beth Seetch, Jonas Stirner, Karla Stingerstein, Patrick Strzelec, Justin Tyler Tate, Scott Voelker, Liz Wheeler & Kim Christman.
Gallery hours:
Mon.-Fri. 11:00 AM – 4:30 PM
Sat. Noon-5:00 PM
There will be a reception on Sunday, July 12 from 4-6:00 PM.
Sponsored by:
Community Based Teaching & the Karl Stirner Arts Trail